IEEE 802.16 Session #88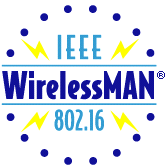 Overview
IEEE 802.16's Session #88 will be held on 11-14 Nov 2013 in Dallas, TX, USA. This will be an IEEE 802 LMSC Plenary Session and co-located with sessions of the other IEEE 802 Working Groups and Technical Advisory Groups.
Meeting Schedule
The session will begin Monday at 1:30 pm and close on Thursday evening by 6 pm. The draft meeting schedule will be posted. Draft Opening and Closing Plenary Agendas will be posted, along with draft subgroup agendas.
Registration, Hotel, Logistics, Visa, etc.
See IEEE 802 LMSC Plenary Session Information.
Documents
The Session #88 Document Guide includes references to all session documents. Draft standards are available with a working group password or by purchase from IEEE-SA. Most IEEE 802.16 standards are available for free download via the Get IEEE 802® program. See the 802.16 publication list for details of published standards and drafts.
---