Walt Roehr (January 5, 1939 - May 19, 2002) was a Member of IEEE 802.16.
See also:
Obituary below (by Don Rickerson for "The Scanner")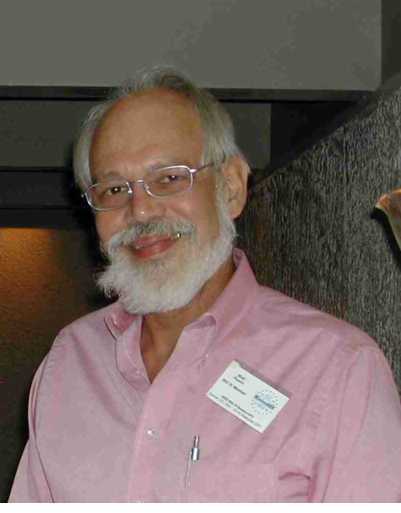 Walt at the 802.16 meeting in Denver on September 12, 2001.
Photo: Roger Marks

Walt Roehr, 63, of Reston, Virginia, a telecommunication consultant, died May 19, 2002 while scuba diving The Great Barrier Reef in Australia.

After graduating City College of New York as an electrical engineer, he was commissioned a Second Lieutenant in the Army Corps of Engineers. Following his time in the army, he worked on tropospheric scatter links in Vietnam and Thailand. He earned a Masters of Science in electrical engineering from George Washington University in 1969. Prior to establishing his independent practice, he was associated with IBM, Defense Communications Agency, Network Analysis Corporation, and M/A-COM LINKABIT; the last two of these at the Director level. However, Walt discovered he preferred interacting with clients and technology to managing those who interact with clients and technology. Therefore, in 1984 Walt founded Telecommunication Networks Consulting. He specialized in the conception and planning of communication systems that satisfied complex technical and organizational requirements. These systems generally included communication links plus computers, protocols, and new organizational functions. Local Area Networks, mobile and aeronautical telephone systems, and various integrated voice data systems (including ISDN) were typical previous endeavors. A particular interest was signaling systems for telephony networks. An increasing component of his practice was assistance, as either a non-testifying consultant or an expert witness, in patent litigation efforts.

Walt Roehr is the co-inventor of SkyTel's two-way paging system -- an effort that resulted in seven patents, an FCC pioneer's preference, and the launch of the narrowband PCS industry. His publications included two Data Communications articles on Signaling System Number 7 (October 1985 and February 1989); a chapter on message handling protocols (focusing on the X.400 protocols) in the Pergamon volume Communications Standards; and "A Multicarrier Modulation for Narrowband PCS" in the IEEE Transactions on Vehicular Technology (November 1994).

Walt had long and distinguished association with the IEEE. In the late 1960s he was an officer with the Information Theory Group for the Washington DC area. Most recently, he was the Chairman of the Communications Society for the combined Chapter of Northern Virginia and Washington DC before it was separated. He was also an active member of the IEEE 802.16 Working Group on Broadband Wireless Access Standards.

As he was fond of saying, he was married thirty-eight years, "All to the same woman". His wife Eileen; his son Roger Roehr and daughter-in-law Melissa Roehr of Ashburn, Virginia; his daughter Jill Roehr-Hindmarch and son-in-law Robert Hindmarch of Plant City, Florida, survive him. His mother Amelia Roehr of Rockledge, Florida; and his sister Rita Parham, and her husband Ed Parham, of Cocoa, Florida, also survive him.

In lieu of flowers the family requests a donation to Graydon Manor Children's Fund, 801 Children's Center Road, Leesburg VA 20175.