[802SEC] Webex Privilege error.
---
---
Greetings,
The privilege error in Webex is expected to be corrected with the Webex update on April 17th.
Until then, here is a work-around to keep chat privileges open for all.
As the host, look to the top of the screen.


Then select Participant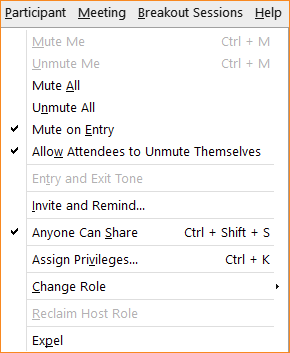 Then select Assign Privileges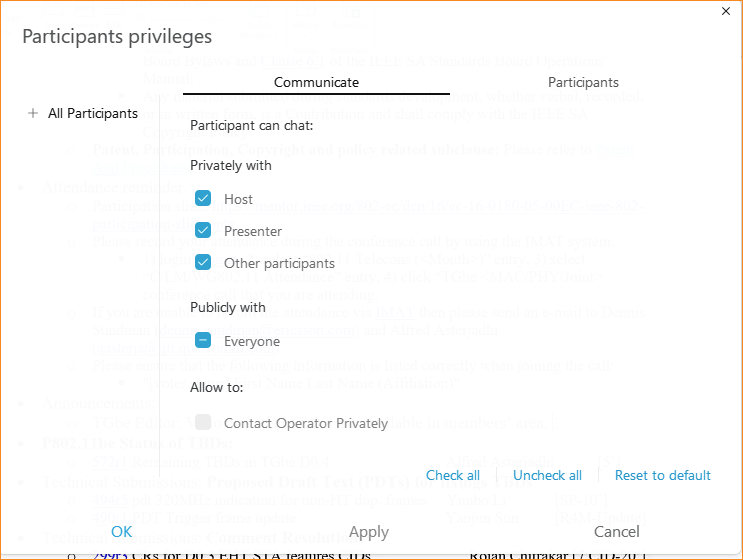 Note the "-" for Everyone....
That is the problem.
select Check All
it should look more like this: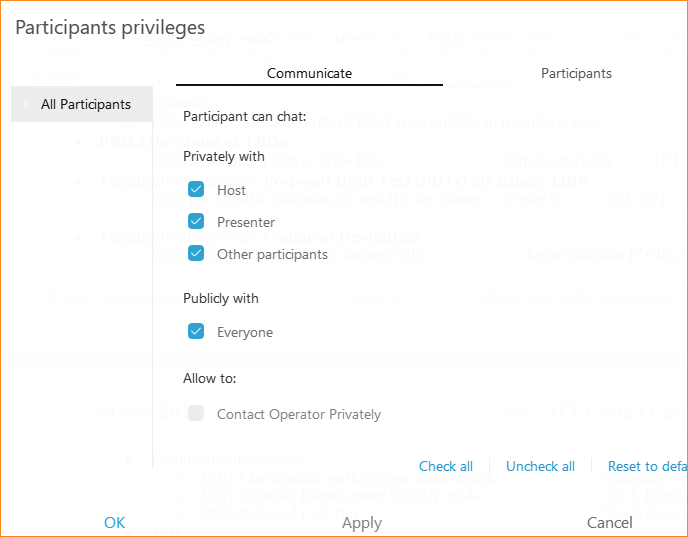 Hit apply and then ok.
You may have to do that more than once, and you may need to return to do again after you have reset the privileges.
Note sometimes the "-" or a blank will be present for the "privately with" boxes as well as the "Publicly with" boxes.  During the 802.11 TGbe call this morning, I have reset the privileges 5 times in the first 15 minutes.
Best of Luck,

Jon
-----------------------------------------------------------------------------

Jon Rosdahl                             Engineer, Senior Staff

IEEE 802 Executive Secretary
Qualcomm Technologies, Inc.

office: 801-492-4023

                  10871 North 5750 West

cell:   801-376-6435 

                  Highland, UT 84003


A Job is only necessary to eat!
A Family is necessary to be happy!!

---
To unsubscribe from the STDS-802-SEC list, click the following link: https://listserv.ieee.org/cgi-bin/wa?SUBED1=STDS-802-SEC&A=1
---