Geoff,
Once again – understand I am trying to explain this as best I can.
I do not post a comment to a twitter page – I send out a tweet and it is posted to our profile, sent to our followers, and is searchable on Twitter search.  See https://twitter.com/ieee802.  As you can see the tweets are shown with the @IEEE802 handle info.  So I am the only individual posting as IEEE802 (I have Jon R as my backup) – but anyone can comment or retweet.
I can click on a tweet to see who retweets / likes a specific tweet.  I sent a tweet about the March Plenary and I retweeted it as IEEE802 and myself, and you can see Tim also retweeted it.  Here is the picture reviewing who retweeted.  You can see it is clear who retweeted.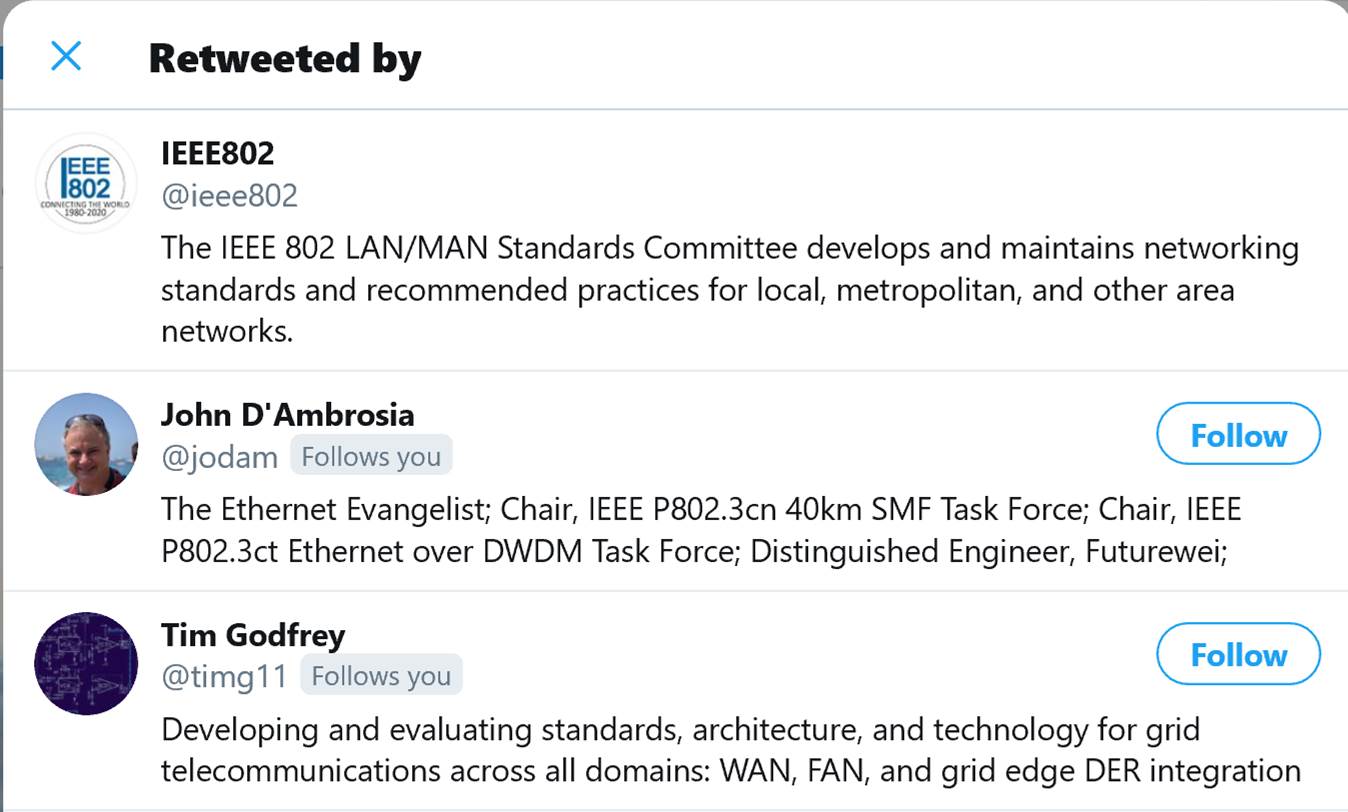 So I will be managing and keeping an eye on it. 
If a problem were to arise with a response to a tweet, I would work with the appropriate people within IEEE to respond to it.
Also – if this becomes an issue then the individual could be blocked.  Per the twitter help center – "Block is a feature that helps you control how you interact with other accounts on Twitter. This feature helps users in restricting specific accounts from contacting them, seeing their Tweets, and following them."
Hopefully I have answered your question.
john
From: Geoff Thompson <thompson@ieee.org>
Sent: Monday, February 10, 2020 7:53 PM
To: jdambrosia@gmail.com
Cc: Geoff Thompson <thompson@ieee.org>; STDS-802-SEC@LISTSERV.IEEE.ORG
Subject: Re: [802SEC] Announcements on Twitter
John-
You have answered my question but not my concern.
I assume that we won't be able to control someone copying our @IEEE802 Tweet and sending it forward with their added comments and perhaps even their own edits. But that would come out under their own handle.
My question is: Can other folks post comments to our @IEEE802 Twitter page?
Those might be "Congratulations". That would be fine.
OTOH it might be a comment that claims 802 Standards are a Martian plot,
which, in turn, might well light off a flame war of comments that are orthogonal to our purpose.
Thus, my question: Do we have control on what gets posted in terms of comments on our page?
PS Just for historical context, I lit off perhaps the 1st e-mail flame war on the Arpa Net (ca. 1979) with a simple request for spare coat hangers.
Given that you said you don't tweet – I am not sure how to properly address your response.

I am the only person who can post at the @IEEE802 handle at this point. However, that doesn't mean that other people aren't able to respond or post comments – they just don't do it as @IEEE802. They would retweet with a comment. It's not like they are responding as IEEE802 – they are responding via their own handle. Its not like they are responding to a reflector that is credited to @IEEE802.

If a problem were to arise with a response to a tweet, I would work with the appropriate people within IEEE to respond to it.

I hope I have answered your question.

John, you are the "primary"

Is the rest of the world "read only" or are they free to post comments?

I am the registered primary contact / tweeter for 802.

John - I saw the announcement about the handle. I was really just trying to confirm the linkage between the handle and a (presumably) real person. I'm suspecting that you are the authorized @IEEE802 tweeter... and it wasn't some pr firm or some method for individual EC folks or groups to get access... sorry if it's naive, like I said, I don't tweet.

---

I sent an announcement to the reflector this morning – please let me know if you got it.

Yes – the new Twitter handle is @IEEE802

Like Geoff, I don't tweet. But have no objections. Just one simple question- is there an 'official' 802 tweeter?

---

I don't Tweet or otherwise use Twitter.

I have no objection to our public/publicity material being made available to the public on public media.

Point to public visibility efforts
IEEE802MeetingAnnouncements
IEEE 802 EC Approved Press releases

At the Nov Plenary Closing Meeting – the EC approved Social Media for announcements related to the 40th Anniversary. I am interpreting this motion limits the use of social media to the bullets noted above.

There is other content that is posted and public on the 802 website that could be of use on the social media channels –

Tutorials
PARs & CSDs to be considered at the upcoming Plenary

Are there any objections by EC Members to using this material for use on twitter? I would appreciate your prompt feedback to allow me further material to start building on our twitter reach.

---

---

---

---
To unsubscribe from the STDS-802-SEC list, click the following link: https://listserv.ieee.org/cgi-bin/wa?SUBED1=STDS-802-SEC&A=1