IEEE 802.16 Session #50 Report

IEEE 802.16's Session #50 was held 16-19 July 2007 in San Francisco, CA, USA. This was an IEEE 802 LMSC Plenary Session and co-located with sessions of the other IEEE 802 Working Groups and Technical Advisory Groups.


Attendance
The attendance list includes 462 individuals, far exceeding the previous the WG record of 367 set at Session #34. For the first time, the 802.16 Working Group had the highest attendance of all Working Groups at an 802 Plenary.


Celebration of 50th Session
In recognition of the 50th Session of the IEEE 802.16 Working Group, a celebration was held on 16 July.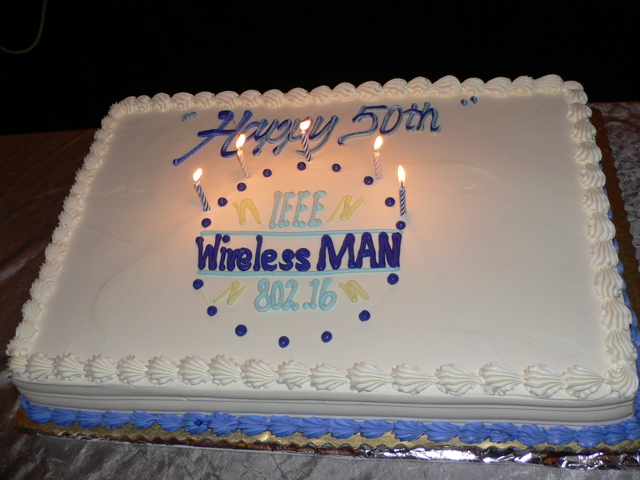 Relay Task Group
The Relay Task Group reach a major milestone when the WG agreed to adopt an initial draft standard P802.16j/D1 and initiate WG Letter Ballot #28 to review that draft. The decision followed extentive comment resolution during the session. A closing report and minutes were issued.
Update: P802.16j/D1 was posted and WG Letter Ballot #28 was opened, though 9 September.

Task Group m (TGm): Advanced Air Interface
Task Group m (TGm) refined its technical requirements document and (see comment resolutions) agreed to initiate another Call for Comments on an updated draft 802.16m-07/002r3. TGm also reviewed comments on its draft evaluation methodology document; the work will be progressed further through an ad hoc committee and another Call for Comments prior to Session #51. The Task Group agreed to a work plan (802.16m-07/001r1). A closing report and minutes were released.

Update: The Call for Comments on Project 802.16m Requirements was opened, though 10 September.

Network Management (NetMan) Task Group
The NetMan Task Group met to address its projects, as detailed below. The Task Group issued a closing report and minutes.
P802.16i Project (Mobile Management Information Base)

The Task Group resolved comments received in Working Group Letter Ballot Recirc #25b regarding P802.16i/D3. P802.16i/D4 will be prepared for Recirculation #25c.
Update: P802.16i/D4 was posted and WG Letter Ballot Recirc #25c was opened, though 14 September.

P802.16g Project (Management Plane Procedures and Services)

The IEEE 802 EC appoved a WG request for conditional approval to forward draft P802.16g/D9 to RevCom for IEEE-SA approval following an additional recirculation. A recirculation plan to address RevCom procedural concerns was developed along with RevCom members. RevCom is expected to consider the draft at its September meeting.
Update: The recirculation was opended, from 8-18 August. A RevCom approval application was submitted.

P802.16k Project

Draft P802.16k/D4, to amend IEEE 802.1D for support of 802.16 bridging, was approved as an IEEE standard by the IEEE-SA Standards Board during its meeting of 22 March. Publication is expected in mid-August.

Maintenance Task Group
The Working Group's Maintenance Task Group resolved editorial comments received on P802.16Rev2/D0b, which represents the current status of the ongoing project to revise IEEE Std 802.16. It agreed to incorporate the material from P802.16/D9 and initiate an editorial review of the merger. The 802 EC accepted a WG request to proceed with the withdrawal of P802.16/Cor2/D4, as the material will instead be incorporated in the revision project. The TG issued a closing report and minutes.
Update: Call for Editorial Comments was opened, through 12 September, on P802.16Rev/D0d.
License-Exempt Task Group
The Working Group's Licensed-Exempt Task Group resolved comments received during a Task Group Review regarding P802.16h/D2b. An additonal TG Review will follow on updated draft P802.16h/D2c arising from the comment resolution. The TG cooperated in a joint meeting on 802.16/802.11 coexistence, under the auspices of the 802.19 Coexistence TAG. That meeting followed seven teleconferences on the topic and led to agreement on a baseline document on system parameters for simulation. The TG issued a closing report and minutes.
Update: The TG Review was opened, through 7 September.
Activities regarding IEEE's proposal to add an 802.16-based Air Interface to IMT-2000
At its meeting of 25-26 June in Geneva, Switzerland, ITU-R Study Group 8 reviewed a draft revision of M.1457-6 (as developed and forwarded by Working Party 8F) including IP-OFDMA (renamed "OFDMA TDD WMAN" and based on IEEE Std 802.16) as a new sixth terrestrial radio interface for IMT-2000. Study Group 8 agreed to arrange a special meeting ( L802.16-07/046) of Working Party 8F (WP 8F) to complete the process of consensus building on M.1457-6. The meeting is scheduled for 29-31 August in Korea. The intent is that a draft revision of M.1457-6 will be submitted for the consideration of the ITU's Radiocommunication Assembly (15-19 October).
The WG, through its ITU-R Liaison Group, drafted a contribution to WP 8F on "OFDMA TDD WMAN (IP-OFDMA) Support of Minimum Requirements." The contribution was approved by the IEEE 802 EC and prepared for submittal to ITU-R (L802.16-07/049r1).
The WG's ITU-R Liaison Group prepared a report of its activities for the week (L802.16-07/050r1).

802.18 TAG Liaison Activities regarding IMT-Advanced
IEEE 802.18 TAG met to review its effort to contribute to ITU-R WP 8F regarding IMT-Advanced technical requirements (L802.16-07/044). A contributed status report on IMT-Advanced Technical Requirements was presented to the 802.18 TAG and to the 802.16 WG as well (L802.16-07/045).

The 802.18 TAG intends to coordinate a further contribution with addtional comments to WP 8F on IMT-Advanced technical requirements. The expected completion is at the November 802 Plenary. The WG authorized its ITU-R Liaison Group to develop input by correspondence for submission to the 802.18 meeting in September.

NGMN Alliance, ETSI BRAN, and WiMAX Forum Liaisons
The WG received two liaison statements (L802.16-07/039 and L802.16-07/041) from the NGMN Alliance, which is concerned with Next Generation Mobile Networks. The WG responded with liaison statement L802.16-07/051r2.
The WG received a liaison statement (L802.16-07/043) from ETSI BRAN and responded with liaison statement L802.16-07/052.
The WG received a liaison statement (L802.16-07/047) from the WiMAX Forum in response to an earlier statement.
Minutes and Motions
The Working Group Session #50 minutes are available as IEEE 802.16-07/040.
IEEE 802 Executive Committee Actions
The Working Group's requests at the 802 LMSC Executive Committee meeting of 20 July were approved.
Documents
The Session #50 Document Guide includes references to all session documents. Draft standards are available with a working group password or by purchase from IEEE-SA. Most IEEE 802.16 standards are available for free download via the Get IEEE 802® program. See the 802.16 publication list for details of published standards and drafts.
IEEE-SA International Award
At the IEEE 802 Opening Plenary of 16 July, WG Chair Roger Marks was presented with the 2006 IEEE-SA International Award "for his dedication to advancing broadband wireless access technology, for leadership in advocating one worldwide BWA standard, and for promoting the international recognition of the IEEE Standards Association."

About IEEE 802.16
The IEEE 802.16 Working Group on Broadband Wireless Access Standards has developed and is enhancing the WirelessMAN® Standard for wireless metropolitan area networks. IEEE 802.16 is a unit of the IEEE 802 LAN/MAN Standards Committee, the premier transnational forum for wired and wireless networking standardization. A list of IEEE 802.16 standards and drafts is available on-line, as is an archive of previous Session Reports. The IEEE 802.16 Interactive Calendar includes sessions and deadlines.
"802.16 News" Mailing List
The "802.16 News" mailing list ("stds-802-16-news") has the sole purpose of distributing major announcements related to the Working Group. Those interested in following the progress of the group but not in the day-to-day details may wish to subscribe. Only the Working Group Chair is eligible to post to the list, and mailings will be rare: once after each bimonthly session and additionally for major news, such as the approval of a new standard. Those subscribing to the stds-802-16 mailing list, for active Working Group participants, need not subscribe to stds-802-16-news since the postings will be redundant.
---
---
With the approval of the IEEE 802.16 Working Group, this report (23 August 2007 update) was drafted and edited by:

Roger Marks (r.b.marks@ieee.org)
Chair, IEEE 802.16 Working Group on Broadband Wireless Access Standards
---
Return to IEEE 802.16 Session #50 Page