Geoff
Thank you very much for publicly pointing out a mistake I made while addressing all of the EC business currently underway. 
I will get it fixed.  Your constant vigilance is greatly appreciated.
Regards
John
From: Geoff Thompson <thompson@ieee.org>
Sent: Thursday, July 30, 2020 12:02 AM
To: jdambrosia@GMAIL.COM
Cc: Geoff Thompson <thompson@ieee.org>; STDS-802-SEC@LISTSERV.IEEE.ORG
Subject: Re: [802SEC] IEEE802 Social Media Presence
John-
In response to your request, my first action before I started to "follow" this LinkedIn page, I took a look at it.
The very first thing I looked at was incorrect, what's more the correct date is shown at the start of every EC meeting.
Who put this together, where did they get the "1983" date and who is checking this stuff before it gets posted?
For your reference, from Paul's slide: PAR originated Aug. 25, 1979, PAR approved 3/13/80.
The organizing meeting at the SF Jack Tar Hotel was Feb. 1980.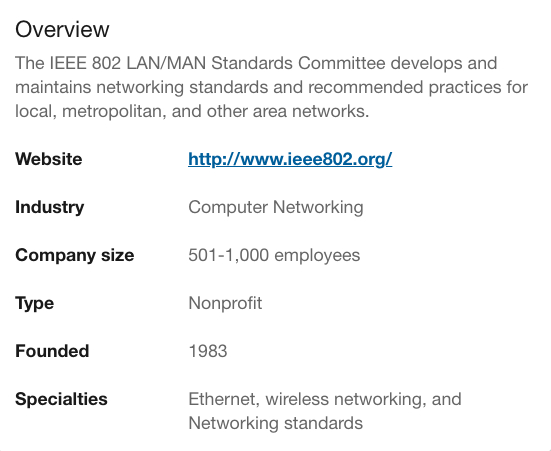 Please see that this gets corrected.
WG / TAG Chairs - please share the message below on your respective reflectors.

As part of its on-going public visibility efforts, IEEE 802 has created a presence on both LinkedIn and Twitter:

Please feel free to follow IEEE 802 on either of these two platforms or to share with your colleagues.

Please note that both platforms are in the early stages of development and news and content will be forthcoming.

Chair, IEEE802 Public Visibility Standing Committee

---

To unsubscribe from the STDS-802-SEC list, click the following link: https://listserv.ieee.org/cgi-bin/wa?SUBED1=STDS-802-SEC&A=1
To unsubscribe from the STDS-802-SEC list, click the following link: https://listserv.ieee.org/cgi-bin/wa?SUBED1=STDS-802-SEC&A=1