Clint,
The graphic has been added to the meeting page, as we did at the last plenary session.
Regards,
John D'Ambrosia
Recording Secretary, IEEE 802 LMSC
From: ***** IEEE 802 Executive Committee List ***** <STDS-802-SEC@ieee.org> On Behalf Of Clint Powell
Sent: Thursday, November 4, 2021 12:51 PM
To: STDS-802-SEC@LISTSERV.IEEE.ORG
Subject: Re: [802SEC] November 2021 Plenary Session Meeting Grid
It would be great if this high level graphic could be added to the registration page. Obviously earlier for meetings going forward.
BR,
Clint
Below is the meeting grid for the upcoming November plenary session that you may find useful to share with your groups.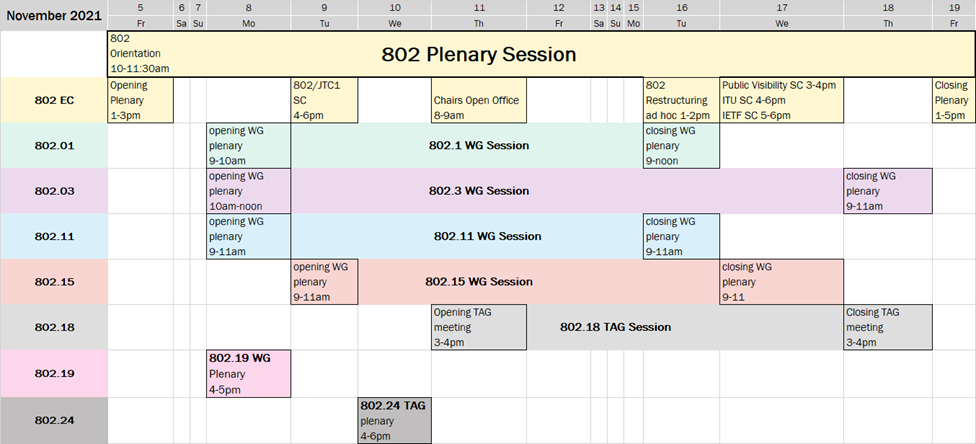 ---
To unsubscribe from the STDS-802-SEC list, click the following link: https://listserv.ieee.org/cgi-bin/wa?SUBED1=STDS-802-SEC&A=1
---
To unsubscribe from the STDS-802-SEC list, click the following link: https://listserv.ieee.org/cgi-bin/wa?SUBED1=STDS-802-SEC&A=1
To unsubscribe from the STDS-802-SEC list, click the following link: https://listserv.ieee.org/cgi-bin/wa?SUBED1=STDS-802-SEC&A=1